Suggested Activities 5th-8th May
Maths:  
Days of the week. 

Watch Ms. Gilroy's days of the week Video.
Daily Practise of; What day is it Today? What day was it yesterday? And what day will it be tomorrow? 
Draw seven boxes on a page, draw a picture of one thing you have done each day of the week. 

Day and Night. Draw a Picture of night time and day time. What is in your night time picture that is not in your day time picture? What is in your daytime picture that is not in your night time picture?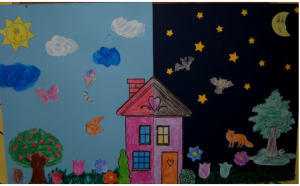 Head over to the Senior Infant page and practise counting and adding up to five with Ms. McGeough's Math's Videos!  
English:  
Continue to revise and write a letter each day, do this in your phonics homework book.  What is the letter's name? What sound does it make? Can you spot anything in the house that starts with the letter? 

This video revises all 26 sounds and letter names: https://www.youtube.com/watch?v=yVyry9jpVjI  
Our story this week is The Very Hungry Caterpillar (Ms. Gilroy's favourite ever picture book!) Watch the video of Ms. Gilroy showing us some of the words you will find in the story! 
Story Time!

Now it is time to sit back and listen to Ms. Gilroy read us The Very Hungry Caterpillar. Can you answer her questions in the story? 
Draw a picture of your favourite part of the story. Can you write a simple sentence with your picture like "This is a Butterfly" "The Caterpillar is very fat" photos@scoilbhridecailini.ie 
New reading words for our next reader: can    jump   splashes  sees   little   

Copy down your new words to practise writing. Can you make a simple sentence for each word? 

Our new reader will be Splash! And we will access it on folensonline.ie you can set up a free parents account and see all the Reading Zone books there. 
Irish:   
Please practise your colours as Gaeilge. Have another look at the video where Ms. Meenagh pronounces the words for you: dearg, bán, bándearg, gorm, buí, glas 

This week we are learning about Bia. (food) 

Please watch Ms. Toomey's video below on Bia! 

 

An maith leat _____? (úll,(apple) )Do you like___? 
Is maith liom _____. – I like ____. 

Ní maith liom _____. I don't like ___.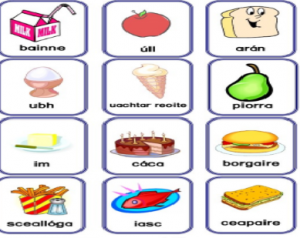 Other  
Science: Ms. Meenagh shows us the life cycle of the butterfly! Can you create your own life-cycle picture/project? 

Watch her Video here! 
Music
Watch Ms. Meenagh's video and sing along!
Section B  
Please consider doing some of these activities also…….  
make a butterfly. 

can you make the letters of your name? 

can you make some of your favourite bia?  
Telling a story – with a familiar book ask your daughter to tell you the story based on the pictures in the book. You can ask her questions to illicit more details. 

Letter name hunt –can you collect items around the house that start with each letter in your name and spell your name with these objects? e.g Jess – J – jelly, E- egg, S- Scissors, S – Soap  p

hotos@scoilbhridecailini.ie

 

Cutting practise – with adult supervision cutting out picture you have drawn or photographs from magazines and leaflets. 

Watching TG4 – Cartoons in Irish, for example https://www.cula4.com/en/shows/naturecat/  
Alphablocks are a nice way to review your sounds, full episodes are available on YouTube here: https://www.youtube.com/channel/UC_qs3c0ehDvZkbiEbOj6Drg  
If you like please keep a little diary of all your activity – we would be delighted to see this diary when we return to school.  
Send photos of any of these activities to us at photos@scoilbhridecailini.ie Please include your child's name, her teacher's name and whether you're happy for us to share the picture on our website. 
Missing you all and hoping all of you are keeping safe and happy. 
Le grá, 
Ms. Gilroy and Ms. Meenagh