Suggested Activities 22nd-30th June
Hi girls, thanks you all for your excellent work on Seesaw this week. We were very impressed with what you sent in. Keep up the fantastic work! We hope you all have a fantastic summer and take a well-deserved rest before September. We miss you all, stay safe.  
Mr. McCrudden & Ms. Duffy 
English 
Reading: 
– Logon to https://www.newsmagmedia.ie/ for free access to Children's Newspaper Ireland.  
– Levelled Readers for Junior infants – 2nd  
Collins Big Cat Ebooks and worksheets (levels 1-7) are now available online at the following link: https://connect.collins.co.uk/school/Portal.aspx  
Login on the teacher portal with the following:  
Username:parents@harpercollins.co.uk  
Password: Parents20! 
Writing: 
Visit Seesaw and find worksheet 'My favourite memories from this year' attached. Give it a go! 

Create an acrostic poem with your child based on summer.  Include pictures and images. 
S___________________________________________________________________ 
U___________________________________________________________________ 
M___________________________________________________________________ 
M___________________________________________________________________ 
E____________________________________________________________________ 
R____________________________________________________________________ 
Engage in some relaxing colouring with our Summer mindfulness pages (Seesaw). This is a lovely way to wind down towards the end of the school year. 

Revise and finish any unfinished work in Handwriting workbooks. 
Spelling: 
Ask your child to come up with as many words about Summer as possible. Ask her to sound out the words and conference with her if there are any mistakes.  

Choose some words each day and ask you child to record them in a sentence. At the end of the week, you could then ask your child to come up with a simple story about Summer. We would love to see what she has created on SeeSaw! 
Oral Language: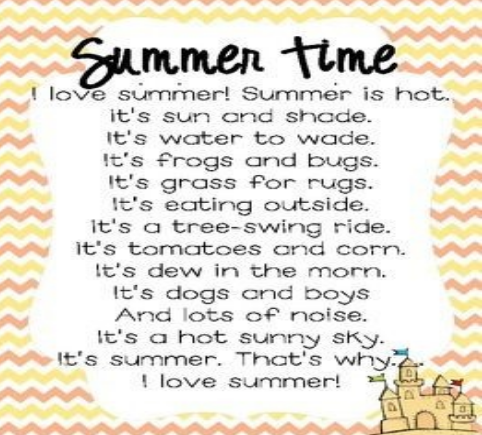 Maths 
Add the numbers on the cards 
Using a regular pack of playing cards, deal 10 cards to yourself and 10 to your child. Each of you keep your cards in a pile face down on the table.  

Have your child turn over the top two cards and add the totals together. For example, if she turns over a 7 and a 9, she adds them together to get 16. You do the same. 
You both compare the totals, and whichever player is showing the biggest total wins a cube. Play continues like this until all the cards are turned over. Whoever has the most cubes at the end of the game is the winner. 
Variation – You can turn over three cards at a time and add up the three numbers to get a total, and continue in the same way 
Ask your child to make a bingo card on a piece of paper. It can be done using a 3 x 3 or 4 x 4 grid. 
Now ask her to write 9 or 16 numbers from 50 to 99 in the squares. Call out various numbers from 50 to 99 at random. 
If your child has a number, she places a counter/cube/coin over it. Keep calling out numbers until your child has a counter on each of the numbers. She then shouts 'Bingo' and is the winner. This game is best played with 2/3 players. 
1. Show me! 
Give your child up to 99 lollipop sticks e.g. 64. First ask her to make 64 using the lollipop sticks in the standard way as 6 groups of 10 and 4 units.  
2.Let's regroup! Small numbers 
This activity can be done using coins/cubes/counters or lollipop sticks. Place 8 cubes on the table. Call out the following instructions/questions: How many cubes are there? I am going to add 4 more cubes. How many cubes have I now (yes, 12) What can we swap 12 units for? (yes, I can swap them for 1 ten and 2 units) So, 8 + 4 = 12. 

Make sure to physically make the group of ten into a proper group by interlinking them. If you are using lollipop sticks or straws, use elastic bands. If you use coins, make sure that your child swaps ten 1c coins for a 10c coin.  

Do the same with a number of other sums with totals to 19 only. 
3.Let's regroup! Big numbers 
How many cubes are there? (yes, 27 cubes – 2 groups of ten and 7 loose cubes)  
I am now going to add 8 more cubes 
How many cubes have I now? (yes, I have 2 groups of ten and 15 loose cubes) 
What can we swap 15 units for? (yes, I can swap them for 1 ten and 5 units) 
Make sure to physically make the group of ten into a proper group by interlinking them. Ask: How many tens have I now? I have the original 2 tens plus the new ten as well as the 5 loose cubes. So, 27 + 8 = 35. Discuss the values of the digits: 
What is the value of the 3? (yes, 30) 
What is the value of the 5? (yes, 5 units) 
Gaeilge 
Cúla4 ar Scoil on TG4 @10am every morning, or even watch a cartoon as Gaeilge 

Cúla4 app- You can download it for games on the different themes. 

Laethanta na Seachtaine: Revise your days of the week. Write the daily news each day. 
An Luan, An Mháirt, An Chéadaoin, Déardaoin, An Aoine, An Satharn, An Domhnach. 
Mar Shampla: 
Inniu an Mháirt (Today is Tuesday) 
Inné an Luan (Yesterday was Monday) 
Amarách an Chéadaoin (Tomorrow will be Wednesday) 
Tá an aimsir grianmhar/ fliuch/ scamallach/ te 
Ócáidí Speisialta – An Trá (The Beach) 

Parents can download Bua na Cainte to use at home. Go to www.edco.ie/bua. Username: trial Password: trial. We are following the 1st Class programme and are working on the topic of An Trá at the moment. You can do these activities again to refresh your memory.  

Play a game of bingo based on the words you have learned; you can find them on SeeSaw. 

Try our Word search on Seesaw (Cuardach Focail) 
PE 
Visit the school website and practice our Active Home Workouts · Visit the RTE Junior website and practice the 10 @ 10 exercises https://rtejr.rte.ie/10at10/  

Search P.E with Joe on YouTube for a fun indoor PE session with the Body Coach.  

Try out some Guided Dance videos on GoNoodle.com. For example: 
Art 
Summer Art: 
Divide a piece of paper in half diagonally with a faint pencil line. 

Use a variety of blue colours to create a wave effect to depict the sea on the top half of the paper. For the sand, you can use crayons/paint or use items from your kitchen e.g. brown sugar or dried couscous to represent the sand.  

On a separate piece of paper, draw two shapes to represent a pair of flip flops (you can trace the bottom of your own flip flops if you find this easier). Design and decorate your flipflops however you wish. Once finished, cut them out and stick them to your shore scene.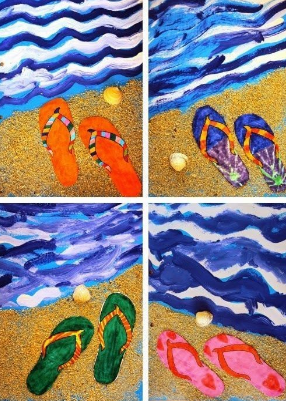 Extra Activities: 
Home School Hub on RTE 2 every day from 11a.m to 12p.m. Watch our very own Ms Ní Chíosain! 
Ms O'Shaughnessy's Group/Ms. McKeon's Group: 
Hello girls, we hope you had a lovely weekend and that you're all keeping well. It's hard to believe that this is the last full week of the school year. Below is some work that you might like to do if you have some spare time but you do not have to do it! I hope you all have a lovely summer and get to go out and play and have fun in the sun. We're really looking forward to seeing you all in September; I bet you've grown so much over the past few months! 
English: 
Reading: My Read At Home Book 1-go to https://my.cjfallon.ie/preview/student/4128  
Read the stories and answer the questions orally (you do not need to write the answers, this reading is just for enjoyment). You may need to ask someone to help you or to listen to your reading. 
Monday 22nd June: p.100 Heartbeat 
Tuesday 23rd June: p. 101 The Kitten 
Wednesday 24th June: p.102 The Moon 
Thursday 25th June: p.103 Little Kitty 
Friday 26th June: p.104 The Top Ten Pets in the World 
Monday 29th June: p. 105 Kay Can't Wait 
Tuesday 30th June: p. 106 Baker 
Activity A: Do you have a pet? If so, draw a picture of it and write a few sentences describing it, telling me what its name is, what it likes to eat/ do, what you do to take care of it. If you do not have a pet, draw a picture of the pet you would like to have, give it a name and tell me a few things about it! 
Activity B: The story "The Baker" tells us about a man who makes bread. What is your favourite thing to bake? Can you write a little bit about it or draw a picture? 
Activity C: I would absolutely love to hear you practicing your reading on the Seesaw App. Why not record yourself and upload it? 
Phonics: 
Well done for revising all the Jolly Phonics Letter Sound groups. Below are some words based on each group that you could revise each day. Here are some suggested activities: 
Break the word down into its individual sounds.  

Write out each individual sound and push them back together (blend them). 

Make the word from your "word tiles" (or pieces of paper) 

Find a rhyming word. 

See how many words you can remember, set a timer and say, write or "make" those words. 

Write a silly sentence using words from your list! 




 


Monday 22nd June: cat, hen, can, hat, neck. 


 


Tuesday 23rd June: camp, kick, met, pen, deck. 


 


Wednesday 24th June: kiss, mist, pram, hiss, test. 


 


Thursday 25th June: get, pig, log, fat, bat. 


 


Friday 26th June: drip, miss, rock, back, duck. 


 


Monday 29th June: pot, gas, fit, stamp, bad. 


 


Tuesday 30th June: leg, rot, up, top, but. 


 


Dolch Sight Words: 


 




How are you getting on with your Dolch words? Have you moved onto the First Grade list on the website? If so, visit: 




 


https://www.dolchword.net and click on Dolch First Grade Games. Play the Dolch First Grade Spelling Game and the Dolch First Grade Jigword Game. You can move up or down a level as required. 


 


Maths: 


 


Mental Maths Games: 


 




Well done on revising all your addition tables. If you have 2 dice at home, you can play a fun game. You can use online dice too if you don't have the real thing! You can make it harder by using 3 or 4 dice. You might also need a Hundred Square or a number-line. 
2 people or more can play this game. You will need a piece of paper and a pencil to record the scores. You will also need 2/3/4 dice (real or online). 
The aim of the game is to see who gets the highest number over 5 rounds. 
Player 1 rolls his/ her dice and adds the 2/3/4/ numbers. Ex: 6 + 6=12. Record their score, Ex: Round 1=12 
Player 2 then rolls his/ her dice and adds his/her numbers. 
At the end of the 5 rounds, the player with the highest score wins. 
 
 
Extension: Target Number. 
Set a target number that you have to reach- Ex: 20,30,40,50 etc. depending on how many dice you are using and how long you want the game to last. The first one to reach the target number wins! 

You could also practice subtraction by setting a Starter number and subtracting the sum of the 2/3/4 numbers on the dice from the Starter number. Ex: Starter number= 30. Round 1: Player 1 rolls 6 +5=11, 30-11=19 




 




  

You can visit the website https://www.topmarks.co.uk/math-games/3-5-years/counting for some good revision games 


 




 




Extra activities:  




 




Look out for some fun extra activities on the new Seesaw App.  




 
———————– 
If you go to Ms. Kelly:  
*Please only complete these activities if you get a chance to do so * 
Hi girls. Can you believe it's the last week of the school year? What a different and strange few months we have just had. I can't wait to see you all again in September. Well done with all of your hard work. Missing you all. Have a wonderful summer and a well deserved rest! 
This week I have selected a reading task from a website called Oxfordowl.co.uk. 
–     This is a fantastic website with lots of free eBooks that you can read online over the summer. 
–     You may need to ask a parent to register their email with the website. 
–     I have selected two stories for you to read. 
–     1: 'Can You See Me?' 
–       https://www.oxfordowl.co.uk/api/interactives/29284.html 
–       This story is about being safe when you are out cycling. 
–       2: 'Everyone Got Wet' 
–       https://www.oxfordowl.co.uk/api/digital_books/1357.html 
–       This story is about a broken hose pipe. It looks like great fun on a hot day! 
–       If you can, I would love to hear you reading. Upload a recording of your reading onto Seesaw. 
–       Have a wonderful summer and see you all soon!