Dear Parents & Guardians, 
It's hard to believe that we are now approaching the year end. It has been a challenging time for everyone but I want to thank you all sincerely for your continued support during this period. Your encouragement and kind words were very much appreciated. 
I want to thank all the girls also for their wonderful work over the last few months and for adjusting to this new method of learning and engaging with their teachers. It has been a difficult time for them too but with your support, they have risen to the challenge and learned many new skills, which will stand to them in the future. I hope girls that you have a fantastic summer now and that you have plenty of opportunities to get outside in the fresh air and enjoy yourselves but do keep a book close by your side. You will never be short of an adventure when you've got a good book to hand! 
Finally, I would like to express my deep gratitude to all the staff in Scoil Bhríde Cailíní for their trojan work over the last few months in ensuring that the needs of their pupils were met and that any additional training necessary was undertaken. Sadly, two of our teachers, Clíona Ní Chíosáin and Shannen Mc Geough will not be returning next year as they are relocating to other counties. I would like to express my sincere thanks to them for the huge contribution they have made to our school over the last few years and to wish them every success in the future. Míle buíochas agus go n-éirí libh sa todhchaí. 
Like all other schools, we are still awaiting guidance as to the measures that will need to be implemented for our return in September. We will be working on this over the summer and will be in touch with you at a later date, should we need to inform you of any new procedures in place. 
Book Payment: 
We have extended the payment date to June 30th in order to assist parents with book payments. If you have any difficulty with payment by this date, please contact the school office. 
Child Safeguarding Statement: 
The Child Safeguarding Statement has now been reviewed and ratified by the Board. This is an annual mandatory requirement. The policy is now available on the school website. 
Book Drop Off/ Collection: 
For those of you who were unable to attend the school at your designated slot last week, we have arranged a further date on Tuesday 23rd, between 10am and 12 noon. You can access the school hall via the yard, where the girls assemble in the morning. 
Parents of Incoming Junior Infants: 
We have put information about a webinar next Thursday, June 25th on the Parents' section of our website. This free online webinar is being hosted on Zoom. It will help to support parents of girls due to start school in September 2020. We would strongly encourage you to view it. In addition, we have also made a PowerPoint presentation which is unique to our own school and we hope that it will give new parents and pupils a flavour of life here in Scoil Bhríde Cailíní. We will be sending this on to parents shortly. 
Start Date for 2020-2021: 
We are hoping to be able to welcome all pupils back to school on Monday, August 31st. Should there be any change in this, we will be in contact with you over the summer. 
Class Teachers for next year: 
The following is currently the class teacher allocation for next September. However, I would like to emphasise that this may be subject to change, depending on school circumstances in the intervening period.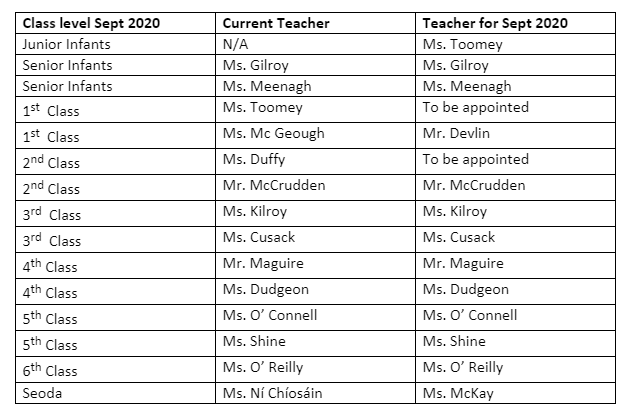 Wishing you all a long, relaxing summer with family and friends. Take care of yourselves and stay safe. 
Le gach dea-ghuí, 
Paula Dargan